Founded in 1988 by R.J. Cummings, Southland Transportation began operations with small office space in Dobson, NC, and just three company trucks. Early adopters of the service that Southland provides were the automotive and furniture manufacturing industries. Lanes were developed from the Carolina's to the Midwest. In recent years, Southland has experienced phenomenal growth, expanding from the three company trucks to a formidable fleet of 205 tractors and over 500 trailers. This growth was accelerated by additions in the corporate structure, along with a renewed focus on introducing new clients to the Southland family of companies. Southland now proudly operates terminals in Boonville, NC, Knoxville, TN, Laredo, TX, Greensboro, NC, and Weaverville, NC.
In 1994, the need for additional service offerings became obvious, and Southland Brokerage Company began operations that same year. The brokerage division has experienced remarkable growth since its inception. With offices in Atlanta, GA, Charlotte, NC, Hickory, NC, Cincinnati, OH, Charleston, SC, Knoxville, TN, and Laredo, TX. Southland Logistics now provides supply chain solutions for some of the largest corporations in the world.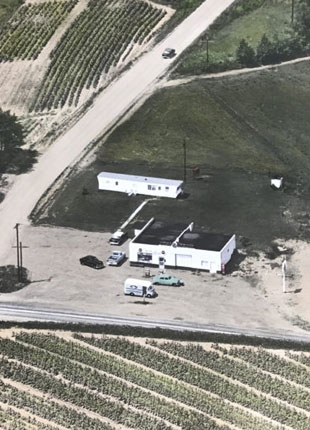 Founded in 1988, Southland Transportation began operations with a small office space in Dobson, NC
As we move towards the next 30 years of Southland, we have made a commitment to invest in our associates with training and technology, and the necessity to improve our interactions both externally and internally. The last 10 years in our industry have shown us that we have to be nimble with the ability to adapt to the ever-changing landscape of doing business in the 21st Century.
We humbly acknowledge that Southland's continued growth is owed to our loyal customers, and to the men and women that day in and day out make our business a fantastic place to work.  Drivers, mechanics, and office personnel all contribute to our growth and success, doing what it takes to get the job done and earn the trust and loyalty of our customers.